Bring your community even closer
Looking to keep your community active, informed, and up-to-date about events or news?
Constant Contact is an easy, effective, low-cost solution to forge stronger ties within your community.
With Email Marketing, you can easily keep your congregation up-to-date with news and announcements.
Online Survey helps you find out what your congregation is interested in, and get feedback on events or special programs.
Using EventSpot will help you schedule and coordinate special events.
---
In minutes, you can:
Share news about members of your community
Announce ministry-specific events
Inspire members with sermons, prayers, and inspirational messages
Email templates for Religious Organizations: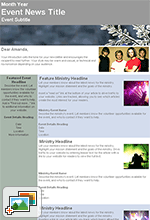 You'll get a wide selection of email templates styles—designed exclusively for religious organizations.